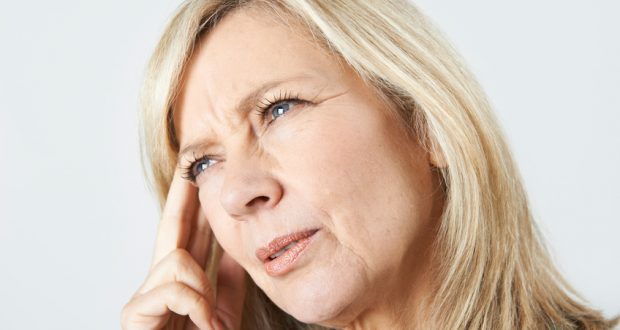 Brains boosting foods is not only important to keep your memory sharp as you get older and keep your brain healthy it's always a great wat to improve your day to day performance. It can support  better concentration, work at top speed and keep you healthy. Here are some healthy recipes that can enhance brain power:
Fruit Salad  Cup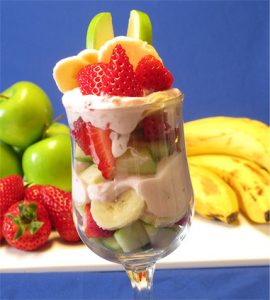 This is a perfect recipe for those who are not on low carb diet.  It's packed with antioxidant-loaded, detoxifying fruits, and the addition of greek yogurt gives you a powerful one-two carb-protein combo.
Ingredients
1 apple (any variety)
3 strawberries
1 banana
4 Tbsp. Greek yogurt (plain recommended)
Directions
The fruits should be minced and layered in a cup or bowl. After each fruit is layered, top with greek yogurt.
Restart the layering process (almost like you're making a lasagna).
If the fruit salad breakfast cup is too simple or boring for you, try adding an orange and throwing these ingredients into the blender.
Recipe Credit: superbraindiet.com
Baked wild caught Salmon with Garlic and Dijon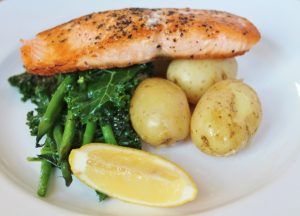 Suffering from mood swings or a poor memory? A diet low in omega-3 fatty acids could be to blame. In addition to possibly reducing your risk of developing heart disease and cancer, these essential fatty acids also affect your brain's memory and performance. Make sure you get a wild caught salmon for all the benefits of the fish.
Ingredients
1½ pound salmon fillet
2 tablespoons chopped fresh parsley
2 large or 3 small garlic cloves, pressed
½ tablespoon Dijon mustard
½ teaspoon salt
⅛ teaspoon ground black pepper
⅛ cup light olive oil (not extra-virgin)
2 tablespoons of fresh lemon juice
Lemon slices
Directions
Preheat oven to 450 degrees Fahrenheit.
Line a rimmed baking dish with aluminum foil. Add the parsley, pressed garlic, Dijon mustard, salt, pepper, lemon juice, and olive oil. (Don't use extra-virgin olive oil; you want something with a higher smoke point.)
Slice salmon into 4 evenly sized portions (more or less depending on the size of your fillet) and place them skin-side down on the prepared baking pan. Using a brush, coat both the fish (top and sides) with the sauce. Top with slices of lemon.
Bake for 12 to 15 minutes, until salmon, is just cooked through (be careful not to overcook). Serve immediately.
Recipe Credit: cheatsheet.com
Chickpea Farro Salad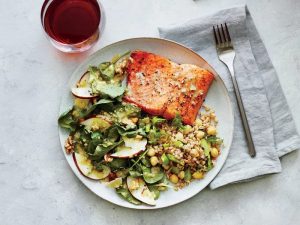 This salad combines brain-boosting farro, chickpeas, and olive oil with the bright crunch of fresh celery. Simple, quick, and delicious.
Ingredients
2 tablespoons extra-virgin olive oil
1 tablespoon red wine vinegar
2 tablespoons minced shallots
1/2 teaspoon kosher salt
1/4 teaspoon freshly ground black pepper
1 cup cooked farro
1 cup canned organic chickpeas, rinsed and drained
1/2 cup diced celery
1/2 cup coarsely chopped celery leaves
Directions
Combine first 5 ingredients in a large bowl, stirring well with a whisk. Add remaining ingredients; toss to coat.
Recipe Credit: cookinglight.com

(Visited 10 times, 12 visits today)
DISCLAIMER:
This website is not intended to provide medical advice or to take the place of medical advice and treatment from your personal physician. Visitors are advised to consult their own doctors or other qualified health professional regarding the treatment of medical conditions. The author shall not be held liable or responsible for any misunderstanding or misuse of the information contained on this site or for any loss, damage, or injury caused, or alleged to be caused, directly or indirectly by any treatment, action, or application of any food or food source discussed in this website. The U.S. Food and Drug Administration have not evaluated the statements on this website. The information is not intended to diagnose, treat, cure, or prevent any disease.